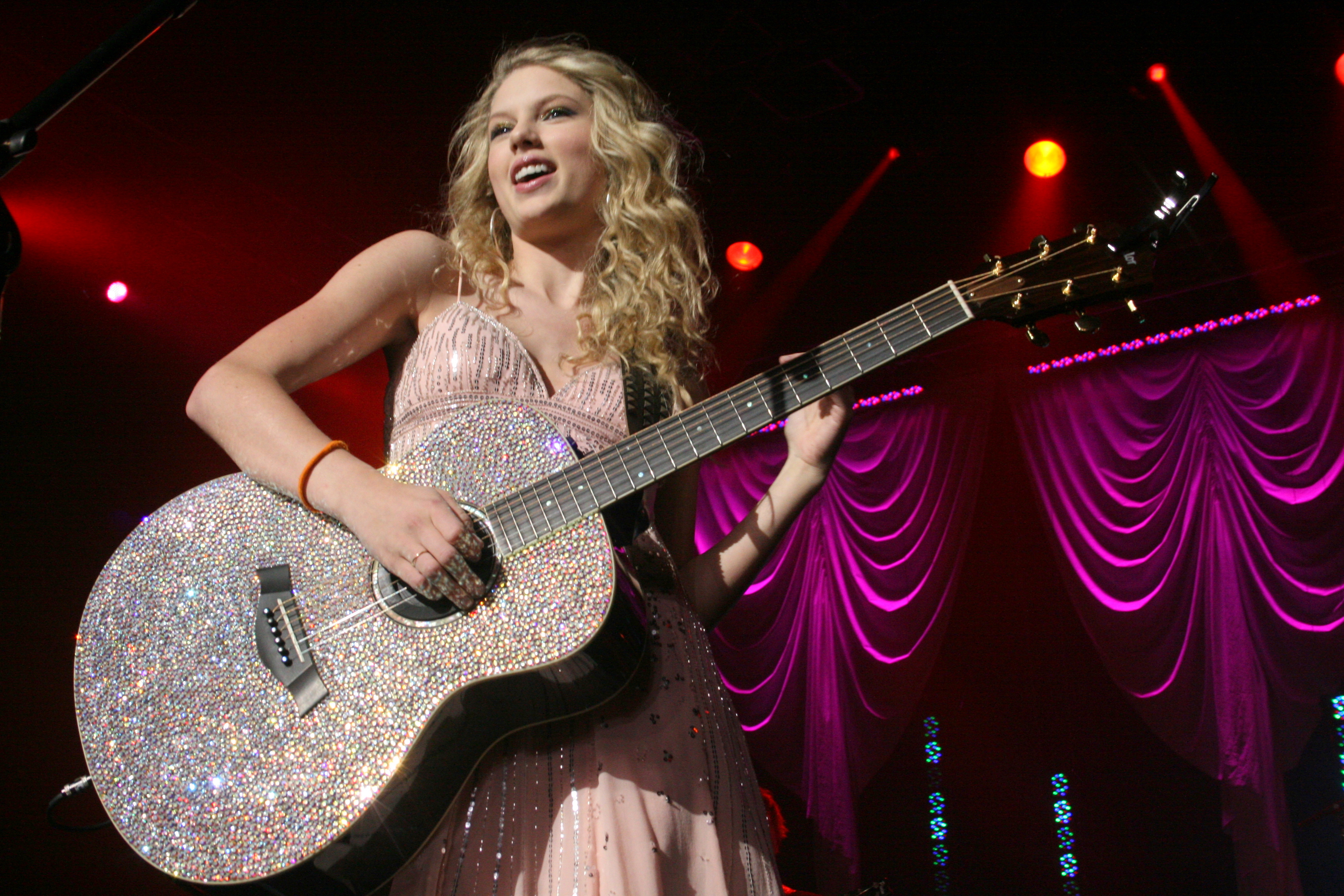 Got the radio on, my old blue jeans, and I'm wearing my heart on my sleeve," 2007 CMA Horizon Award Winner and 2007 GRAMMY Best New Artist nominee Taylor Swift sings on "A Place in This World," a self-penned coming-of-age anthem from her Double Platinum-selling self-titled debut album on Big Machine Records. It's an apt description of the enthusiastic, down-to-earth young woman whose original compositions about teenage life brim with poignant honesty and an infectious spirit — and have quickly made her country music's most successful new star. In fact, Taylor who was honored as the 2007 Songwriter / Artist of the Year by the Nashville Songwriters Association International, recently became the first female solo artist in country music history to write or co-write every song on a double-platinum-selling debut album. She is also the youngest person ever to single-handedly write and sing a #1 country single entirely on her own.
Upcoming Taylor Swift Concerts
In a genre notorious for being slow to change, Taylor is considered to be the first bonafide country star of the MySpace generation. iTunes lauded Taylor as their Best New Artist of 2007 and her second single, "Teardrops On My Guitar," was iTunes #1 selling country song that year. With over 32 million song streams on her MySpace page and digital singles now certified GOLD, Taylor is clearly appealing to—and is the voice of—a new generation of country fans. It's no wonder that AOL Music named her their Hottest Female Country Artist of 2007.
Just 18 years old, Taylor is at an age where most teenagers are only beginning to find their identity and lay tentative plans for the future. But there's never been much doubt in Taylor's mind about her calling. Growing up on a farm in Wyomissing, Pa., she began performing around town as early as age 10, at karaoke contests, festivals and county fairs — and even a Philadelphia 76ers NBA game.
But it wasn't until she picked up a guitar at age 12 and learned to write her own songs that Taylor discovered how readily she could channel the turbulent emotions of growing up into her music. Before long, she was spending every available moment playing and writing. "I was playing four hours a day until my fingers were bleeding and my mom called me to dinner," she says.
Soon, Taylor's family recognized both her talent and her determination, and began taking regular trips to Nashville. At age 14, Taylor landed a publishing deal, the youngest songwriter ever signed to Sony/ATV. After the family moved to nearby Hendersonville, Tenn., a showcase at the Bluebird Cafe caught the attention of music-industry veteran Scott Borchetta, who was planning to launch a new label.
Since then, Taylor has pulled double duty as a straight-A student and full-fledged recording artist, a balancing act the teenager handles with grace. "I have tunnel vision as far as this goes," she says. "I can always keep my eyes on the goal." That determination has surely paid off — Taylor Swift debuted at No. 3 on the Billboard Country Album chart and went Gold in just 13 weeks, Platinum in only 32 weeks, and Double Platinum in 58 weeks. Stars such as George Strait, Kenny Chesney, Brad Paisley and Rascal Flatts invited her on tour. Taylor also landed a coveted spot on Tim McGraw and Faith Hill's Soul2Soul tour, invited by the namesake of her smash hit "Tim McGraw." Wrote the Arizona Daily Star, "Swift's quick rise is three parts chutzpah, one part determination, and a legacy of parents believing so strongly in their little girl's talents that they packed up and moved to give her a shot."
But if the poise with which she's handled her growing success belies her age, the more than 200 original compositions in Taylor's catalog are filled with all the ebullience and drama of adolescent life. In her recent #1 single, "Our Song," the narrator bemoans the fact that she and her boyfriend don't share a sentimental tune, only to have him affectionately describe all the little moments that make their relationship special. "Our song is the way you laugh," he tells her.
Like all songwriters, Taylor is inspired by the life going on around her, and like any 17-year-old, she admits to a "fascination" with love. Her sweet, youthful perspective helped launch her debut single, "Tim McGraw," into the Top 5. A tender ballad, "Tim McGraw" describes the way music can evoke the sweetest of memories: "When you think Tim McGraw/I hope you think my favorite song/The one we danced to all night long."
Taylor had the chance to meet the country superstar, one of her greatest influences, and perform the hit song live at the Academy of Country Music Awards in 2007, where she was also nominated for Best New Female Vocalist. Taylor picked up her first-ever award at the 2007 CMT Music Awards, where viewers voted "Tim McGraw" the "Breakthrough Video of the Year."  The digital single of the same song was also certified Gold by the RIAA, making Taylor one of only 11 country artists to accomplish such a feat.
Though her songs sparkle with the carefree joie de vivre of youth, Taylor doesn't shy away from tackling serious issues. Elsewhere on her debut, "Tied Together With a Smile" captures the fragile self-esteem of teenagers, inspired by girls that Taylor has known through the years, including a beauty-pageant queen who suffered from an eating disorder: "Seems the only one who doesn't see your beauty/Is the face in the mirror looking back at you." In the second verse, she laments that lack of confidence sometimes leads girls her age to make hasty and reckless decisions about their relationships: "I guess it's true that love was all you wanted/'Cause you're givin' it away like it's extra change."
Such flashes of maturity give
weight to her bright, engaging tunes. Taylor admits her primary agenda with her music is to evoke a strong emotional response. "I want to make people feel things," she says simply. As she embarks on a promising career with that in mind, the teenager that CMT.com called an "undeniable young dynamo" is careful not to let her "tunnel vision" keep her from enjoying every moment. "Everything about this business is exciting to me," she says, "whether it's putting on a pretty dress to go to an awards show, or putting on a sweatshirt to go into the studio to record."
"You only get so many firsts," she adds. "Every one is a blessing.