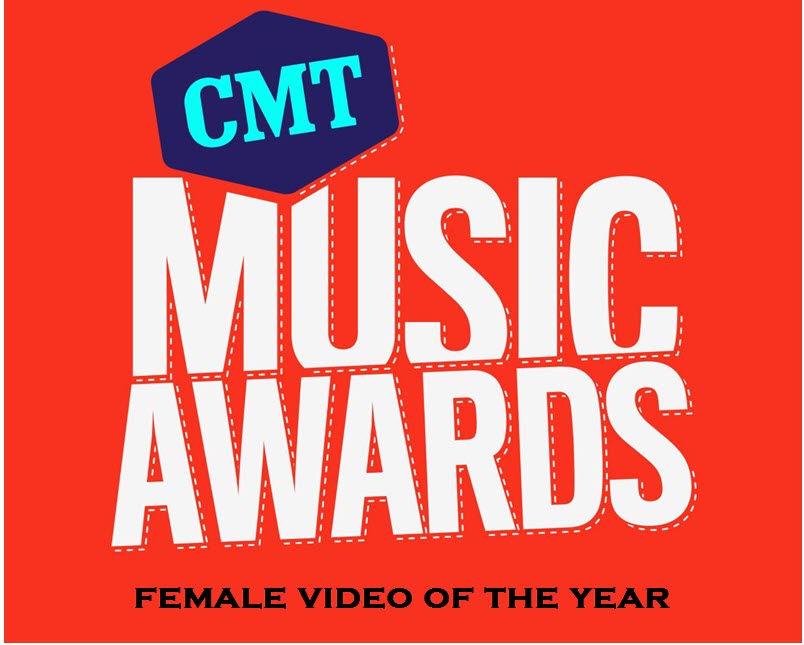 2019 CMT Music Music Awards nominees for Female Video of the Year are Brandi Carlile, Carly Pearce, Carrie Underwood, Kacey Musgraves, Kelsea Ballerini, Maren Morris, and Miranda Lambert.  Here's a look at each of the contenders.  The winner will be announced at the CMT Awards live from Nashville on June 5, 2019.
Female Video of the Year
Brandi Carlile – The Joke
Brandi Carlile isn't the newest on the country music scene, but she's definitely becoming even more of a popular name across multiple genres with each year that passes and each award that's won, and it's so deserved. Brandi was born in Ravensdale, Washington, eventually dropping out of high school to pursue the musical career of her dreams. I guess it's true what they say: not everyone's path to success looks the same!
Carly Pearce – Closer To You
Carly Pearce is probably my favorite female in country music right now, in all honesty. I love the passion in her voice and the amount of heart she pours into her music, and there's just something different about what she's bringing to the table right now. All that being said, this song doesn't quite do it for me. Not after hearing Every Little Thing and If My Name Was Whiskey. Considering the other artists and videos nominated for this award, I don't personally see her taking the win. BUT the nomination alone is a huge victory for her, and she should be proud— I know I am!
Carrie Underwood – Love Wins
What a funny coincidence that Carrie could potentially win this award for her song "Love Wins" during Pride Month! I love the song, love the aesthetic of the video, love it all. Not to mention, this woman is a powerhouse, checking off all the necessary points on the checklist that make her a superstar! Carrie is no stranger to the feeling of victory, and she's earned every one so far. Could she be adding one more to her collection?
Kacey Musgraves – Space Cowboy
Kacey Musgraves is winning at life right now. The amount of new fans she's brought into the world of country music is absolutely insane! Not to mention, she's becoming more and more of a style icon and just an all-around superstar. As a Kacey fan from the beginning, I've loved watching her grow into the artist that she is today. I truly hope she takes the win in this category, because I can't think of anyone that deserves it more.
Kelsea Ballerini – Miss Me More
This video, like the song, is perfect for any woman who needs reminding that she is whole and worthy with or without a significant other. I LOVE the message behind it, and this is one of the best videos (and songs) of her career so far. If they called her name when announcing the winner, it wouldn't be the most shocking thing I've ever heard.
Maren Morris – GIRL
Maren Morris is a woman of many talents, and ever since her career started taking off, she's only moved forward from there. Maren stunts throughout the video, that tells the stories of her and other female characters and their painful experiences, in a sensitive yet empowering way. She provides a tone and interpretation that's refreshing and much needed in this day and age, and it's so beautifully done that maybe… Just maybe… There may be a win in her near future!
Miranda Lambert – Keeper of the Flame
Miranda Lambert is a household name at this point, and is that really surprising to anyone? She's created an iconic career for herself, between her work as a member of Pistol Annies and her solo career, she never stops dishing out hits— and I'm not complaining one bit. I still stand by the statements I just made, but I do need to say, I believe her nomination for this category is based more on her status in the industry than it is the video itself, considering the video really just chronicles her travels in the road. Not that that's not exciting, but there are thousands of videos out there just like it and I don't see anything truly unique about it. But, my opinions may be vastly different than those of the other voters, so I guess we'll just have to wait and see!
Check out the full list of CMT Music Awards nominees and cast your vote now at vote.cmt.com. The CMT Music Awards will be broadcast live from Nashville  on Wednesday, June 5 at 8/7c on CMT.  Who's your pick to win Female Video of the Year?