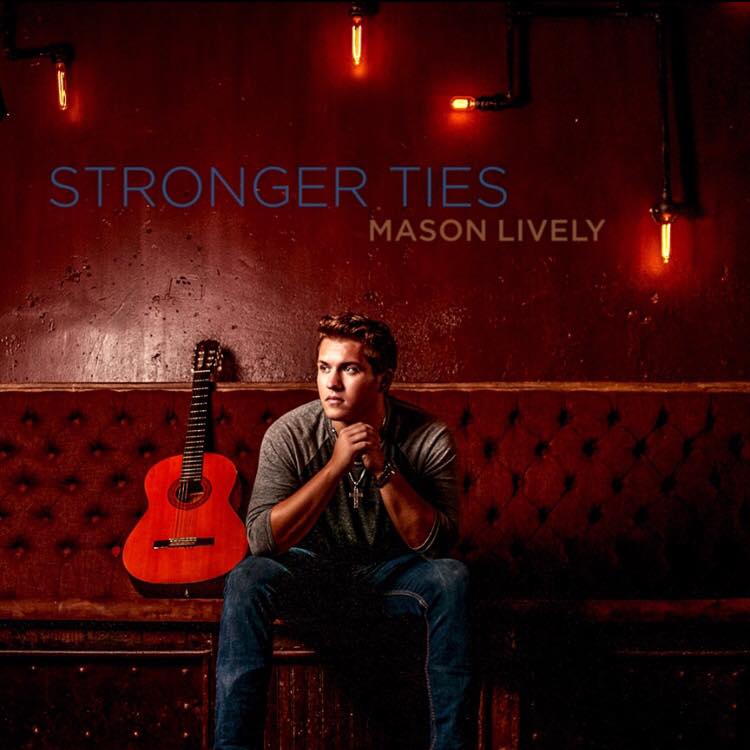 Texas hot shot Mason Lively will release his first full length album Stronger Ties on April 6, 2018.  The 20 year old from Inez, Texas (population 2,000) found the blueprint for songwriting at a very young age and wrote his first one at age 15.  Texas Music Pickers will exclusively premier the album in its entirety on Monday, March 19th.  Chris Fox, Co-founder and editor of Texas Music Pickers sends a warning to all music fans. "Remember this name: Mason Lively. Between his dynamic style, smooth vocals, and captivating originality, he's definitely got a bright future ahead of him! His new album, 'Stronger Ties" is going to make a big splash!"
Growing up in a small town and lacking big city stimulation, Mason spent his developmental years taking his lessons from songs that were born long before he was.   At the age of 16 he was already in the studio cutting his first 5-song EP called "Living Large in a Little Town" co-produced by Lloyd Maines and Pat Manske. Being his first music project, Mason did little more than sell it in local parking lots and hand it out to family members, but the promise it foretold of a budding career grabbed the attention of several "players" in the scene who sat back with eagle-eyed anticipation to wait patiently for the young maverick to ripen.  They didn't have to wait long.  Trey Newman at the Lee Crosby Agency was one of the eagle-eye watchers who witnessed over time the cultivation of the kid's stage presence, and in 2017 signed Mason as a booking client.  Soon thereafter Trey introduced Mason to Stewart Mann, frontman and primary songwriter for the acclaimed country blues band The Statesboro Revue who stepped in to co-manage the upstart's career.  All agreed the time was at hand to release some new music and with Mason's kettle of reserved songs now at the boiling point, he went back to the studio to record his first full length album.
First impressions always speak the loudest and the very first thing that stands out about this album is its diversity.  Where most artists strive for a cohesive sound and overall theme, Mason decided to let his genre flags fly and the result is a buffet-style feast for the ears, and there is something here for everyone. He wrote all 10 songs, and with the help of producer Pat Manske, each one came to live comfortably in its own world of sound.
The first single "Lonely Comes Back Around" by far waves the Texas alt-country flag the highest, and will no doubt secure a permanent seat at radio's table.  "Heavy Toll" runs a close second, but takes it up several notches with a menacing guitar riff and rock-styled chord progression that is hammer on nail, touching on the taboos of road life that only a working musician can truly understand.
And "Early Grave" and "Ballad Of The Broken Heart" are kissing cousins brining in the "tonk" to douse the flames that devil woman set to your heart. But stamped on the lighter side of that tainted coin is the impression of optimism, and "Worry About Nothing" is the album's cleverly crafted talisman: country cool and soothing like the stroke of a familiar hand on a worried brow.  And there is so much more.  "Stronger Ties" is Mason's way of paying tribute to the music scene that he loves and is proud to be a part of.
"Mason Lively is the real deal. Blues/Rock/Americana/Texas all mixed together into something beautiful."  -Shayne Hollinger/The Ranch Radio Ft. Worth
"Mason is hands down one of the most driven, motivated, and knowledge-hungry young artists I've ever met, and he reminds me a lot of myself at his age, except I had a lot less talent. His appreciation for all genres of music and his ability to weave in and out of styles both as a writer and a singer is what initially intrigued me, and honestly he's just too damn nice. How can a 20 year old be that talented and humble? I don't have an answer to that but it's what led me into the world of artist management for the first time in my career. I can't wait for the world to hear Mason's genre bending, Texas country meets blue eyed soul Americana music."  -Stewart Mann
For more information, visit  www.masonlively.com